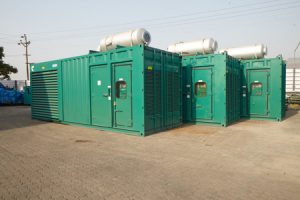 Generator on Rent for reliable power. Generators for Hire for 25kVA to 2000kVA and multi-megawatt power requirements.
Modern Energy Rental is one of the leading power rental generator providers in India. We provide Generators on rental for a wide range of applications and industries in India. We have a huge range of Generators available for rental in India including rental generators for offshore applications and remote sites. Our containerized portable rental gensets are used for temporary power requirements for both short term and long term duration.
Our fleet of generators for rent includes both Rental Diesel Generators (DG Rental) and Gas generator rental in a wide range of capacities ranging from 25kVA to 2000kVA including multi-mega watt power plants.
Modern is your reliable partner for temporary power rental equipment. We are known for providing cost-effective, reliable rental power through our wide range of generator rentals in India.