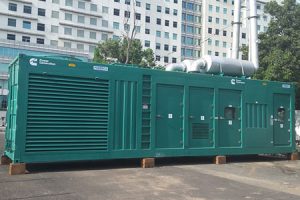 Temporary power plants / Rental Power stations to meet your power requirements.
Modern Energy Rental is a renowned temporary power plant rental company in India. We can provide  starting from 1MW to multi-megawatt Diesel / Gas based power plant on rental basis in any voltage i.e. 3.3 kV, 6.6 kV, 11 kV, 22 kV, 33 kV to meet your power requirements. Our huge experience in power rental business allows us to offer reliable solutions and can provide on-demand power in any location.
Benefits of Power Plant Rental from Modern include:
A huge fleet of Diesel generator, Gas generator, Transformer, and other power rental equipment.
High skilled technical team and support staff.
Strategically located depots for quick on-demand service.
Compact containerized gen-sets which reduces costs and time for mobilization, installation and subsequent commissioning.
International quality and safety standard for all equipment.
Fully compliant with all emission norms.
Reliable, Robust service from a company with 35 years of background in power generation and power rental business.
Temporary Power Plant Rental Applications include:
Remote locations power requirement to meet power demands.
Power plant rental to mitigate risks of load shedding, peak looping, emergency power, power outages, blackout, facility shutdown, backup, and standby power.
To avoid high penalties due to high power consumption during peak seasons.
Pre-commissioning, commissioning and testing of large capacity motors (Boiler Feed Pump – BFP, Booster Pumps, etc.) with starter i.e. VFD, Star Delta, DOL during startup of any big plant.
Short duration operations during unavailability of power at the start of any plant.
Our range of temporary power plant rental equipment includes:
Diesel Generator on Rent
Transformer on Rent
Load banks for Rent
Fuel Tanks Rental
Fuel Management along with compliance management.
Temperature control equipment rental
Availability of Temporary Power Plant in the following capacities:
4 MW, 5 MW, 8 MW, 10 MW, 12 MW, 15 MW, 20 MW
3 MVA, 6 MVA, 9 MVA, 11 MVA, 16 MVA, 25 MVA