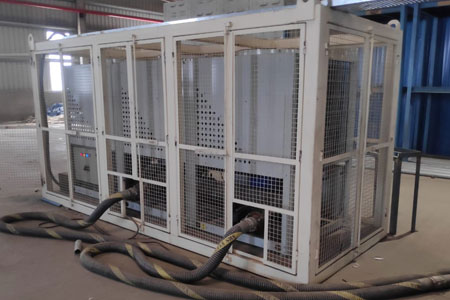 What is the Difference between Air Cooled Chillers and Rooftop Units
Difference between Air Cooled Chillers and Rooftop Units
Cooling devices are essential industrial equipment that cool fluids and other compounds and dehumidify the air. Because of this property, they find wide application in various industries such as hotel and catering, manufacture, pharmaceutical, and more.
While there are different types of cooling devices available in the market, in this article, we will be focusing on two types of cooling systems and establish the main differences between them. Let us start by understanding what air-cooled chillers and rooftop units are.
What are Air Cooled Chillers?
An air-cooled chiller refrigerator system requires heat transfer in the form of air streams with the help of an electric motor. Air-chiller coolers can keep fluids cool while cooling and dehumidifying the air simultaneously. These cooling devices are environment-friendly than other variants like water-cooled chillers.
What are Rooftop Units?
Rooftop chiller units are HVAC equipment installed on the roof of any residential or commercial building. These cooling systems have a predetermined route to provide a clear path for carrying conditioned air within the building. They are highly durable against various weather conditions like rain, snow, and the sun.
Difference between Air Cooled Chillers and Rooftop Units:
Here are the key points of difference between an air-cooled chiller and a rooftop chiller unit.
Location of placement of the chiller:
You can install air-cooled chiller systems at multiple locations in the building, including the basement or the various floor levels. However, rooftop chiller units are only suitable for installation on the roof of the building.
The difference in size between the two:
The air-cooled chiller cooling system has a bulkier design because of the multiple attachments such as chillers and boilers. Rooftop chilling units have a simplified layout that gives them a compact configuration.
Attachments and internal connections:
As mentioned above, air-cooled chillers have various additions installed throughout the system. A rooftop chiller has a comprehensive design that includes all the required attachments in the body, reducing external accessories.
Conclusion:
We are sure that this article has helped you establish a clear difference between air-cooled chillers and rooftop units. This differentiation will help you identify them more clearly and pick the more suitable cooling device for your needs.
If you are looking to rent or buy an air-cooled chiller or rooftop unit, you can contact us to get suggestions and advice from our professional team of industry experts. We also provide all types of industrial equipment, including generators, lighting towers, and air compressors.
So what are you waiting for? Rent Air Cooled Chillers and Rent Rooftop Units with Modern Energy Rental Pvt. Ltd.