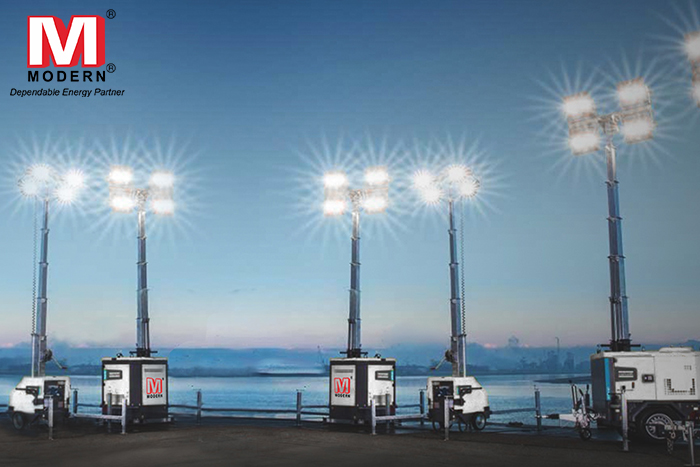 Use of Mobile Lighting Tower in Construction Sites
Use of Mobile Lighting Tower in Construction Sites – For mining sites, building sites, civil engineering works, wind and solar EPC projects, road projects, defence requirements, and industrial activities, in particular, these lighting towers provide temporary illumination solutions.
Important Features of Mobile Lighting Tower
Internal towing system for easy movement of the lights.
energy-saving lighting option with good brightness.
Powered by diesel
Two-wheeled trolley
Any project involving building, engineering, or maintenance will require you to choose the type of lighting which will provide the best visibility throughout your job site.
There are many choices, and the geography of your workplace will determine what lighting solutions are suitable. Tower lighting is a popular option that may be used in a variety of settings and circumstances. So, let's examine the advantages of tower lighting in further depth.
Use of Mobile Lighting Tower in Construction Sites
Fast and simple setup
There is no need for specialized training or anything except the given step-by-step instructions to create a portable light tower. The rapid setup time results in substantial time savings for big work locations.
Easily portable
Movable lighting towers are quite simple to travel, as one might anticipate from anything with the word "portable" in the name. They can readily navigate hard Jobsite terrain because of the sturdy wheels attached, and they can be securely deployed on uneven terrain owing to the sight level indicators.
A strong lighting presence
Tower lights wouldn't be any good if they don't shine brilliantly, despite their excellent mobility. Tower lights offer intense lighting over a large area because they are outfitted with metal halide lights, which are four times as bright as tungsten halogen lamps.
Low noise
Noise pollution has become a serious factor for workplaces that are close to residential or public areas. Noise laws must be followed by tower lights. Our tower lights are well suitable for city centre construction projects as well as open public gatherings or festivals.
Supply of energy
The fact that portable tower lights include a built-in generator may be one of its most useful features. Rather than bringing in extra, independent generators, this may serve as a strategic power supply for several work areas, resulting in the more effective use of electricity. This is ideal for weekend on-site.
Modern Energy Pvt. Ltd is committed to providing extremely reliable and cost-effective Mobile Lighting Towers on a rental basis.